"We're an online coffee store – with a mission to make it easier to find and buy fresh roasted coffee online in Thailand. So that you can really find the coffee you love most."
Coffee Culture was founded in 2020 during the lockdown in Thailand. Traveling outside your house was not allowed, and everything was online. So, how do you find and buy fresh roasted coffee in Thailand if you can't travel? Is there a store online that you could go to and just browse through different types of coffee available in Thailand? One that provides customer service in English and in Thai? And do they deliver coffee beans anywhere in Thailand? The answer back then was a simple NO.
And so the journey began for Susan Borvornpotsakul, the founder of Coffee Culture Thailand. " I am not a coffee specialist, but I do love to try and taste different types of coffee. I'm the type of coffee drinker who is not looking for specialty coffee, just something that suits my taste preference. I didn't like the sour and bitter aftertaste that is left behind every time I drink a cup of coffee. And so I began my journey of tasting different coffee, but it was not that simple," said Susan during an interview with us.
Discouraged at not being able to find different fresh roasted coffee online easily with a fast response time, or some sort of customer service to recommend the RIGHT coffee FOR her, she decided to go ahead and fulfill this need. Susan took to the internet and started scouting for local coffee farmers and roasters around Thailand, bought their coffee, set up some photoshooting and assigned her marketing team (from her digital marketing company – E-Media) to fully attack the digital & e-commerce world of coffee. At the start, Coffee Culture started with 0 products in hand, a website with an e-commerce store, and a crowdfunding campaign which ended up raising 60,000 baht in sales for coffee.
Coffee Culture Today – Stands As Thailand's Best & Largest Online Coffee Store To Find & Buy Roast Coffee Online
Since then, Coffee Culture has grown into the go-to online shop to find and buy fresh roasted coffee beans or ground coffee, coffee makers, equipment, accessories and merchandise for coffee lovers. 1 year and a half has passed, and today Coffee Culture represents 18 coffee roasters in Thailand with over 200+ coffee varieties and growing daily. And is now available for delivery in Thailand, Singapore, and Hong Kong as well as worldwide within a few days.
Supplying Businesses with Office Coffee Subscription & Unique + Quality Corporate Gifts
Coffee is an essential part of everyone's life, and it's a great way to increase productivity at work. After all, it has been for centuries. It adds a nice touch to both your clients and your team because coffee boosts mental abilities, increases stamina, and improves memory. Plus, it makes people happier, and it improves morale in the workplace. That's the best coffee drinker statistic of them all! So make sure to get your coffee supplies for your business through Coffee Culture.
Coffee Culture supplies offices with delicious coffees that match their brand, team and taste preference. With options to customize your coffee monthly packages (otherwise known as Office Coffee Subscription) to match the amount you need, budget, taste, with scheduled coffee deliveries, and an option to change the coffee to a new one. Bringing in new coffee options can stir up conversation, team bonding activities and have a positive impact for your meetings with clients.
Working Together With Local Coffee Shops Around Thailand – Creating A Circle Of Business
Have you ever heard of a business ecosystem? If not, Coffee Culture sets a perfect example for this business model.
"There is no doubt that businesses would grow faster and bigger WHEN working TOGETHER." – Susan Borvornpotsakul
Their partnered coffee shop program was designed to work together with coffee shops. With an aim to help cafes find the right coffee for their target clientele, help them market their coffee shop, and provide consultation to find ways for them to generate sales both in-store and online. The aim behind the partnered coffee shop program is to help coffee shops grow their cafe awareness, and hopefully, their sales revenue.
They Aim To Make A Difference In The Thai Coffee Industry – Uplifting Thai Coffee & Its Community
Coffee Culture aims to make a difference in the Thai coffee industry while uplifting Thai coffee and its community by supporting local coffee farmers and roasters in Thailand. Helping them market their coffee through different online channels to reach a wider audience both domestically and internationally. In addition, Coffee Culture takes part in various initiatives to connect with and uplift the local community, partnering up with local artists to create Artist Series Merchandise, and also does a lot of behind-the-scenes work in the local community.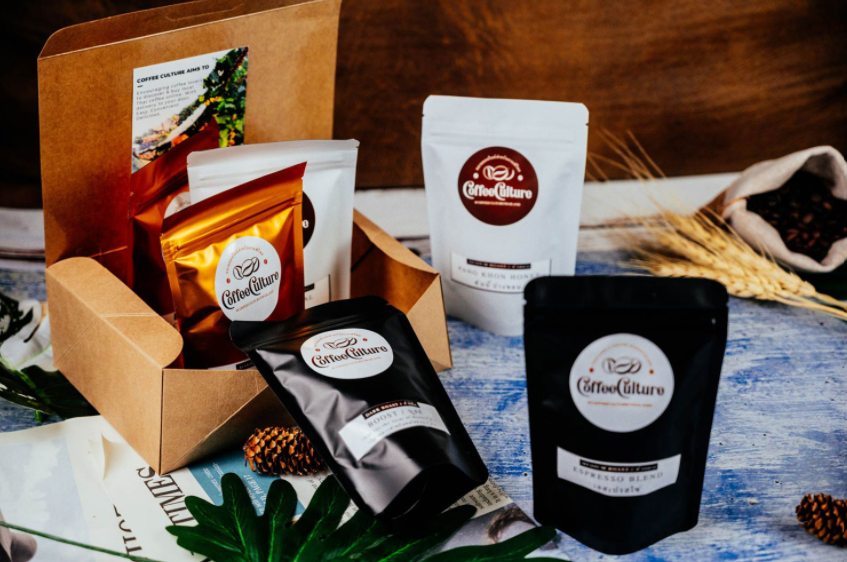 All in all if you are looking for the best store to buy coffee online in Thailand – Coffee Culture is worth checking out.