We at E-Table Asia understand how difficult it is to leave your furry friends at home, and even more so to find places that they can tag along. That's why we have searched the island far and wide to help locate pet friendly restaurants in Phuket so that you can enjoy a meal with your entire family! From Nai Harn to Cherng Talay and beyond, we have found some fantastic eateries that don't mind allowing dogs to join in a friendly meal with their owners.
Of course, this is all with the intent that your four-legged friends are polite and well behaved. What's even better is that many of the restaurants are in areas where you can enjoy and nice walk before or after your meal or cocktails! So whether you are craving Italian, Thai, burgers, or even Fish n Chips, we have the perfect spots where you can dine with your dog and enjoy an evening with the whole household!
Not seeing your favorite pet-friendly restaurant in our list?
Let us know and we will be happy to add it!
THE CORNER
For over two years, The Corner has welcomed diners, two legged or four, from all over the world. Serving delicious breakfast and dinner, The Corner offers an international and Thai buffet every Monday and Thursday from 6pm onwards and is conveniently located just opposite Boat Avenue.
BLACK CAT
Black Cat in Cherng Talay is an open-air bamboo-style restaurant that has been open since 1996, just one kilometer from the Laguna Phuket entrance. Serving inexpensive Thai, French and international cuisine, Black Cat is a relaxing environment for you and your family, furry members included!
LUCACINI A WINE STORY
Serving up the finest Italian wines and cuisine, Luca Cini is a wonderful place to relax and enjoy a glass or two of red with your pet right in Boat Avenue! Located at Boat Avenue in Cherng Talay, Luca Cini is in the perfect location to walk around with your furry friend after a great meal!
FRYING KIWI
Offering incredible fish n chips and urban-style sliders, The Frying Kiwi has been wowing its customers with its authentic and creative menu in the Laguna area of the island at Boat Avenue. What's even better is that you can share the experience with your pet and then go walk off your meal around the facility!
PIZZA LOVERS
Pizza Lovers by La Taverna is a great casual place to sit back, relax and enjoy a pizza or two, as well as some incredible Italian cuisine. Located in the Laguna area at Boat Avenue, Pizza Lovers is a cute little stand-style eatery with outdoor, undercover seating – perfect for you and your furry one to enjoy people watching, rain or shine!
HOME KITCHEN
RESTAURANT
With its inventive design and cuisine, Home Kitchen located on Kalim Beach is an excellent place for you to take your furry friend out for a night on the town! This must-try restaurant is always hopping, so make sure to book your table in advance!
LEMONGRASS RESTAURANT
Only a ten-minute walk from Patong Beach, Lemongrass is a wonderful place to bring your pet for delicious Thai and European cuisine. With a reputation for outstanding service, this restaurant is a must for any pet owner.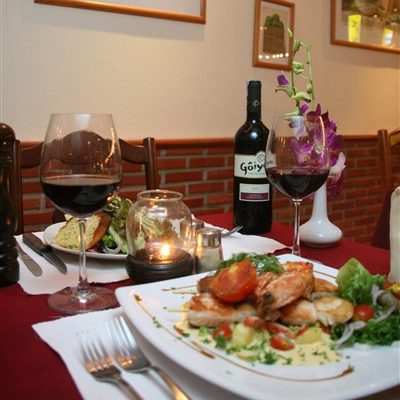 KARLSSON'S RESTAURANT
Karlsson's Restaurant & Steak House is just 80 meters from the beach road and offers daily specials, pizza, pasta and top quality beef steaks imported from Australia. They welcome all members of your family to come enjoy a spectacular meal and fun atmosphere.
SEA BREEZE
Sea Breeze, located at the Royal Phuket Marina, offers up plenty of delicious Western and Thai cuisine, all with that infamous RPM vibe. Grab some snacks and a few drinks at Sea Breeze with your pet and then go for a walk around the marina!
THE SPEAK EASY
The Speakeasy Yacht Club is a play on the prohibition era offering international cuisine and large range of beverages. Located at Royal Phuket Marina, The Speakeasy is a wonderful place to bring your furry friend for a few drinks and subsequent walk around the marina.
SURF & TURF
With nearly a year under its belt, Surf & Turf in Phuket Town has been serving up fusion-style fine-dining cuisine at an affordable price, wowing locals, expats and travelers alike. What's even better is that your well-behaved furry friend can tag along with you so that you can enjoy a meal out on the town with the whole family!
CAFE DE LARD
Café De Lard is a small stylish coffee shop in Phuket Town, just near Wat Wichit Sangkaram, that welcomes visitors of all species! Offering up great coffee at affordable prices, this little coffee shop is the perfect place to stop by on your morning walk.
T-DIN CAFE
T-Din is a popular coffee shop located in Phuket Town just near Bangkok Hospital. It's amazing coffee has made it popular among expats and locals. So popular, in fact, that it is open to humans and animals alike!
PATONG BEACHKATA / KARON BEACH
NEW YORK BURGER CO
Located just off of Kata Beach, New York Burger Co is cooking up New York-style burgers with all the sides! With menu items such as a Mac & Cheese Burger, homemade onion rings and Jalapeno Mac Bites, this eatery is not to be missed! Even better, four-legged friends can come enjoy themselves too!
CECCONI & HAVANA
Cecconni Italian restaurant and Havanna Café, located on the way to Nai Harn Beach off the main road in Rawai, offers amazing Italian cuisine, as well as delicious grilled meats and tapas made right on their very own brick wood-fired oven! What's even better is that your four-legged friend doesn't need to miss out – you can bring them along to enjoy and excellent meal with incredible wine and cocktail selections!
READ OUR REVIEW HERE
THE GREENMAN'S PUB
The ever-popular Green Man Pub, located just after the Chalong circle heading toward Kata, is an English-style pub serving up excellent international and Thai cuisine and refreshing beverages. This lovely pub welcomes you and your pet. All you must do is notify them ahead of time.
READ OUR FOOD REVIEW HERE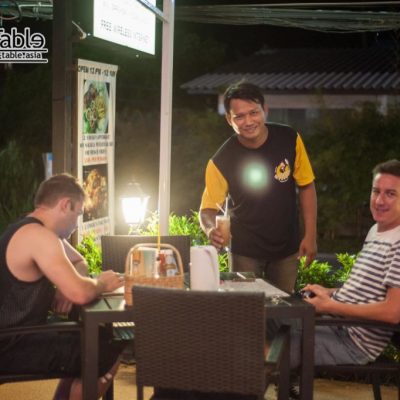 SHAKER'S RAWAII
Shakers Phuket, located on the main road in Rawai, just after Super Burger, has quickly become an island staple with its vast western and cocktail menu. It also gets extra points for allowing you to bring your furry friend along while you dine or watch a game!
BOOK A TABLE HERE